January 16, 2019
Running
By Fix Events
Tempo Runs
A tempo run is a faster-paced workout also known as a lactate-threshold, LT, or threshold run. Tempo pace is often described as "comfortably hard." Tempo running improves a crucial physiological variable for running success: our metabolic fitness.
The Basics
- Run just under the maximum for a period of no more than 20-25 mins
- If Max Effort is 9/10 and a Warm Down is a 3/10 then a tempo run should sit at a 7/10
- You should be creating lactic acid ( i.e working in the aerobic energy system )
but to a level that's manageable and not affecting performance, hence limiting it to 20-25 mins and only 7/10 so that performance is not affected
- Set agreed splits before hand and then aim to maintain them consistently
The Idea
We want to train your body to work as hard as it possibly can ( overload it ) without performance being affected through inevitable physiological side effects, that not even the best athletes can avoid.
If we train in this zone we get the best from ourselves and eventually as your body adapts to the overload demands your placing on it, it adapts meaning you can work for longer before fatigue sets in and performance affected.
Graph Example – Good Tempo Run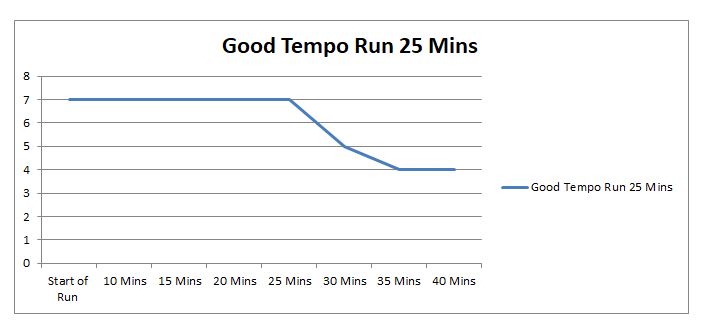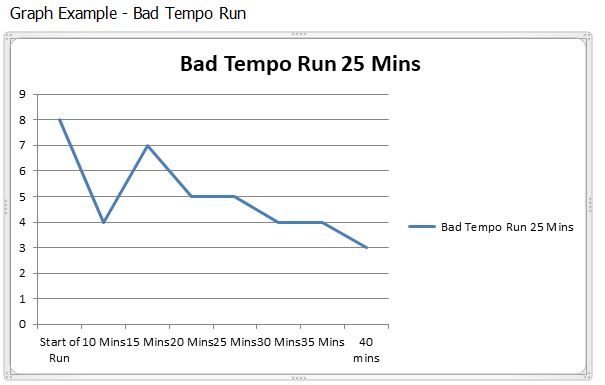 Essentailly what we are saying is to get upto a level where you are peforming and working just below the fatigue / lactic acid threshold and then hold it there throughout the workout, training the body to peform for longer in this " zone "
However usually this means putting the body the "pain barrier" as it naturally the brain takes over and tells the muscles to slow down as this hurting and its not much fun ! This is where your grit and determination take over, combined with the motivation and knowledge from Coach Chris to push you that little but further along in the peformance zone.