World Day of Running Summer Virtual Run Challenge
Saturday at 08:00am22nd May, 2021
About this event
We are pleased to bring you our Summer World Day of Running Run Challenge for 2021
Register now, choose your distance, start training and treat the World Run Day like your event day! On Saturday the 22nd May get out and complete your run, anytime throughout the day and then log in to your Fix profile which you will have after registering and add your time for your chosen distance.
You will then see your time and place on our challenge leaderboard.
We will send regular emails in the lead up to the event day, we will try and keep you focused and let's create an event where although we may be running in our small groups we can bring you all together for this event! Please sign up, its free! And get as many people you know to join this event.
* If you can't run on the 22nd for any reason you can add your run time online prior to this date and once the leaderboard is opened up on the event date your results will still display. In fact you can still add your run times in your profile as often as you run when training and you can view all your run challenge stats so go on, get yourself registered today!
World Run Challenge Runners Receive
Online profile where you upload your run time along with regular updates
View your challenge stats, view our leaderboard and our overall country running stats
Partner offers and benefits
Motivational training advice, videos and more
Offers and discounts to future Fix Events
If you want to receive one of these super cool World Run Day Challenge medals you can add this and pay for one during the registration. Please note this design may change and if so it will only be an even better medal!! These will be limited in availability so pre-order yours today.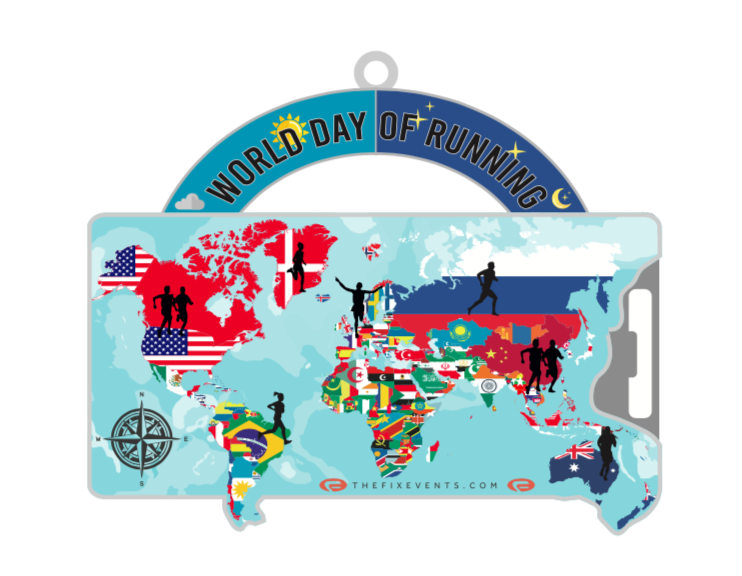 Race Video
Event Information
Entries close on the 22nd May, 2021. Please note a 10% online booking fee is added at checkout.
Event Merchandise - Get the look!
Available to buy during checkout.
World Day of Running Summer Virtual Run Challenge Medal£7.00(discounted price)