Virtual MidWeeker Run Challenge
Wednesday at 07:00am18th March, 2020
About this event
Here's another awesome FREE virtual run challenge for you. This is our MidWeeker special, join this community and besides any other running challenges you take on do this one midweek! A way to motivate yourself to run during the week and be part of our super friendly running family.
Once registered you can add your run times online via our user profile pages and view your individual results and stats as well as your country km's run. It's good fun in these crazy times! Add your run times whenever or as often as you like and everytime you improve your results will be updated in the leaderboard.
Keep up to date with us and other runners and get inspired, share your journey, and enjoy wherever you are. Here's to staying motivated and fit!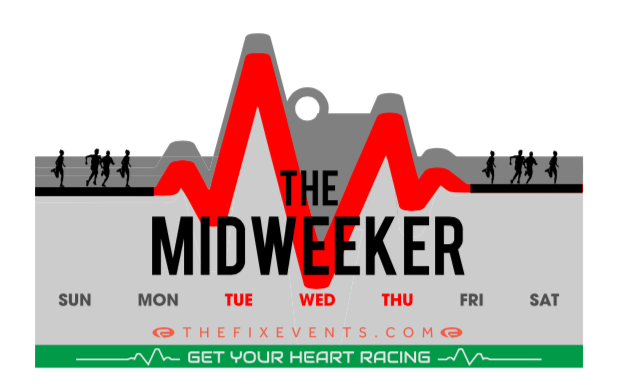 MidWeeker Runners Receive
Online profile where you upload your run time along with regular updates
View your challenge stats, view our leaderboard and our overall country running stats
Partner offers and benefits
Motivational training advice, videos and more
Offers and discounts to future Fix Events
If you want to receive one of these super cool MidWeeker medals you can add this and pay for one during the registration.
Let's stay active, stay positive, and hopefully we can all get back out and join running events in the not too distant future.
Event Information
Entries close on the 30th April, 2020. Please note a 10% online booking fee is added at checkout.
Event Merchandise - Get the look!
Available to buy during checkout.
MidWeeker Medal 2020£5.00(discounted price)