Virtual Get on Your Bike Cycle Challenge
Tuesday at 07:00am1st September, 2020
About this event
Set yourself a target for cycling this September, whether it's outdoors or on an indoor bike!
Here's our awesome new Get on Your Bike virtual cycle challenge that you can get involved in throughout September.
Add as many distances as you like so whenever you do a 5k, 10k, 25k or 50k cycle add in your time for the ride and see how many km's you can achieve over the month. When logging in to your Fix Profile you will see your challenge stats and total distance achieved as well as the leaderboard placings.
Keep up to date with us and other cyclists and get inspired, share your journey, and enjoy wherever you are. Here's to staying motivated and fit!
Get on Your Bike Cyclists Receive
Online profile where you upload your cycle time along with regular updates
View your challenge stats, view our leaderboard and our overall country stats
Partner offers and benefits
Motivational training advice, videos and more
Offers and discounts to future Fix Events
If you want to receive a Get on Your Bike medal you can add this and pay for one during the registration.
Log in to your profile, add your time (see sample visual below) and then view your stats, your leaderboard placing and overall challenge details.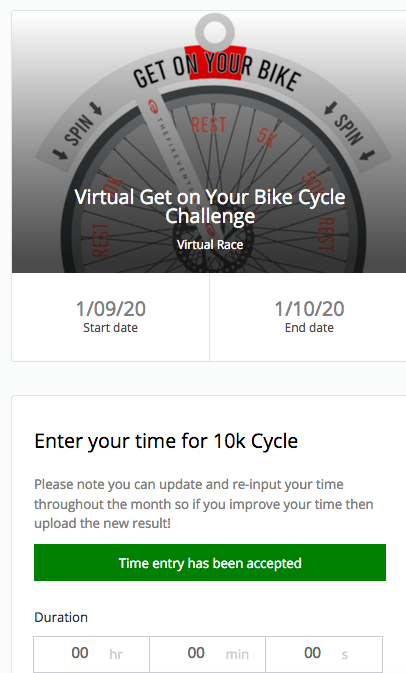 Event Information
Entries close on the 1st October, 2020. Please note a 10% online booking fee is added at checkout.
Event Merchandise - Get the look!
Available to buy during checkout.
Virtual Get on Your Bike Cycle Challenge Medal£7.00(discounted price)