Virtual CheckPoint Challenge Race 1
Tuesday at 08:00am20th April, 2021
About this event
Take on our CheckPoint Challenge Runs wherever you are in the world and start collecting this stunning set of medals PLUS Awesome Running Armbands!
The more runners taking on these challenges virtually in your City then the more chance we will be able to bring LIVE CheckPoint Challenges to you in the coming months.
So go on, get onboard join this Race 1 challenge, start logging your run times in your profile page, share with family, friends, colleagues and have a great time CheckPoint Challenge Running. You can decide your run route, maybe come up with CheckPoints around your location and spread the word.
All CheckPoint Challenge Runners receive
Online profile where you upload your run time along with regular updates
View your challenge stats, view our leaderboard and our overall country running stats
Partner offers and benefits
Motivational training advice, videos and more
Offers and discounts to future Fix Events
If you want to order your medal and armband as shown below you can do so once you get to checkout.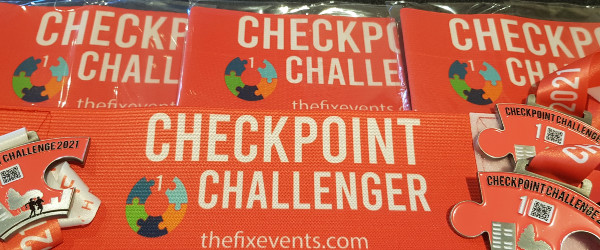 Race Video
Event Information
Event Merchandise - Get the look!
Available to buy during checkout.
CheckPoint Challenge Race 1 Medal and ArmBand£7.00(discounted price)

CheckPoint Challenge Race 2 Medal and ArmBand£7.00(discounted price)