TRI Challenge Team Triathlon
Saturday at 09:00am9th September, 2017
Dorney LakeOff Court Lane, Dorney, Windsor , SL4 6QP
About this event
The ultimate team relay triathlon. Awesome fun, great atmosphere and the best way to end the triathlon season! The event is ideal for all levels of triathlete so find your team of 3 and secure your team entry.
The distances are 400m swim/15km bike/5km run. All team members complete all disciplines however the first team member will set off on the swim, come out of the water, tag the next member who then completes the swim and so on. You then move on to the bike and then the run. The event is electric and one not to be missed.
Possibly the friendliest and most fun triathlon to take part in! Whether you get friends or get your company signed up we hope to see you at the event.
Secure your place today and be part of this great event.
Motivation to inspire you to take part

Super friendly, helpful, supportive and professional team to motivate, support and inspire you
Olympic venue
Clean, calm lake waters
Fast, flat closed road bike and run course
Suitable for all abilities
Early season timing to prepare for longer distance events
Awesome atmosphere
Event benefits
Awesome new finishers medal for 2017 as below
Free Parking
Electronic chip timing
Instant race results
Results texted to your mobile phone as you cross the line (additional cost which can be added during your registration)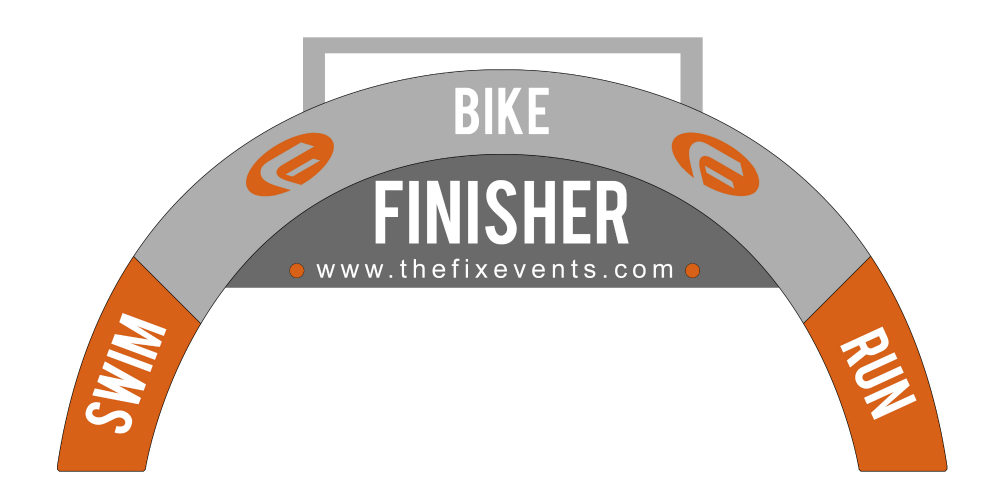 Race Video
Race Map
Event Information
Registration will be open from 7am and will close at 8.50am. Please note you will collect all race packs, numbers and race chips at registration on the morning. We will be sending full details including your team race number information by email shortly.
Registration will be set by race number so please queue in the appropriate section.
If travelling by train the main stations for Dorney Lake are Slough (Paddington line) and Windsor & Eton Riverside (from Waterloo) but is also near Burnham, Taplow, Maidenhead and Windsor & Eton Central (branch of Paddington line). From these stations you can get a taxi or if with a bike you can ride to the venue. We recommend researching the best option before travelling to ensure you arrive on time.
A dedicated bag storage area will be available next to the registration tent.
Toilets and showers are available in the club house.
Please remember that if you are not BTA registered you have to pay the £5 levy at registration. If you are BTA registered please remember to bring your license.
You will receive ONE TEAM CHIP per team. It is your responsibility to hand this over to team mates at each transition. This is essential to record your times!
You MUST decide your team order prior to arrival. A goes first, B second, and C third.
After registering you have to rack your bike in the appropriate location. Group A rack their bikes in Bike Rack A and so on for B and C. You can share 2 bikes between the 3 team members. So A and C can share.
All bikes MUST be racked by 8.55am.
The race will start at 9am sharp.
The road will be closed at 9.15am. Anyone arriving after this time will have to park in the top car park and walk down.
THE EVENT
Group A starters must gather in Swim Pen at 8.55am. Here they will pick up their swim caps. Group B only moves in after Group A has started the swim. This is when they collect their swim caps and again the same for Group C. Each group will be given different coloured swim caps.
A starters must make sure they have the timing chip on (around their ankle). They start the swim 400m. Once finished they come back and tag B starters who are now in the Swim Pen having collected their swim caps. Remember to hand over the TIMING CHIP.
B now go off for their swim and does the same.
Group A have to move over to the Bike transition and wait in the tag area.
Once Group C have finished the swim they have to run over to the Bike transition area and tag A (remembering to hand over the TIMING CHIP)
A goes off on the bike and completes 3 laps of Dorney Lake. (Helmets MUST be worn)
Once completed they MUST dump their bikes at the BIKE DUMP RACK, and then run over to tag B, and again same for B.
Once they have done this they MUST remove Bike from BIKE DUMP AREA to clear this space for the next group.
You can take the bike back to your car. However please remember your Bike is your responsibility and we can not be responsible for the safe-keeping of this.
Please be careful when crossing the road as bikers will be on the road.
Once Group C finish the bike they dump their bike at the BIKE DUMP Rack and now run over to RUN PEN where Group A will now be. Again they tag A handing over the timing chip.
A now complete one lap of Dorney Lake 5km, coming back to tag B who are now in the pen.
C will complete the last lap and will come back and cross the finish line, completing the race.
Everyone will receive a medal and prizes will be awarded to MALE, FEMALE, and MIXED winning teams.
The event is great fun and a great buzz for every level of triathlete. Please make sure you come prepared and have all your essential kit with you including wetsuits which must be worn for the swim and helmets which again must be worn on the bike. Results will be up online within 48 hours of the event completion. We look forward to seeing you at the event and if you have any questions regarding the day, please do not hesitate to contact us.
We look forward to seeing you for what will be an awesome event and fantastic day!!!
By Car
The full address for the event is Dorney Rowing Lake, Dorney, Windsor, Berkshire, SL4 6QP. A link to the venue can be found at the top of this event page.
By Train
If travelling by train the main stations for Dorney Lake are Slough (Paddington line) and Windsor & Eton Riverside (from Waterloo) but is also near Burnham, Taplow, Maidenhead and Windsor & Eton Central (branch of Paddington line). From these stations you can get a taxi or if with a bike you can ride to the venue. We recommend researching the best option before travelling to ensure you arrive on time.
Can I register on the day of the event?
This is possible only if the event isn't sold out. This will be stated on the website prior to the event.
When do I receive my race pack?
We email you your race number and details and this also goes on the website prior to the event so you can search if you haven't received your email for any reason. You then collect your race packs at registration on the morning of the event.
How do I know I am registered?
You will receive an email confirming your entry. If a friend or colleague has entered as long as they have used your email address in the entry you will receive confirmation.
Will I receive race information in the lead up to my event?
Yes we send out email newsletters giving you updates on your race, information from partners and general details to get you ready for race day. You will receive a number of emails which include your race number details.
Will I be chipped timed?
Yes all our events (unless otherwise stated) are chip timed! In most cases you will use our disposable race chips. You need to ensure you put these on correctly on your shoe (race instructions will be given via email and this info is on your event information page on your event page).
Can I find the race number list prior to the event?
Yes, your event race list will be online approximately a week prior to your event. Please make a note of your race number and that of friends as you will collect your race pack on the morning of the run.
What happens if I don't receive my race email?
If you don't receive your race email it may be because the wrong email address was inputted or the race email went in to your junk mail so please check carefully. All information will be on the website of the location you are taking part in and a race listing with your race number will be online the week before the event.
Can I Enter a team?
Absolutely! Get as many friends, family or colleagues together and run as a team. You are not required to run together and each person will receive their own time however it's just fun to run under a team name.
Can I run with a buggy?
Yes this is typically ok for most locations however please check the run route course as some locations can be a mix of path, trail, grass so not always suitable for running with a buggy. Also please try and stay to the left as much as possible to give room for other runners.
Can I volunteer to marshal at the event?
Absolutely! If you miss out on a place or just want to help out on the day and marshal that would be great. You would be there to support and encourage all entrants. Contact us by filling the form to express your interest. We would welcome you to join our team.
Entries close on the 6th September, 2017. Event prices exclude 10% booking fee.
Event Merchandise - Get the look!
Available to buy during checkout.
Fix Addiction Limited Edition Black T-Shirts£16.00(discounted price)

Fix Addiction Limited Edition White T-Shirts£16.00(discounted price)