TRI Challenge Team Triathlon
Saturday at 09:00am21st September, 2019
Dorney LakeOff Court Lane, Dorney, Windsor, SL4 6QP.
Entry prices are per person and make sure to either sign all your team up including your team name or if each team member is entering themselves ensure they add exactly the same team name to be linked together.
About this event
Awesome fun, great atmosphere and possibly the best team triathlon to take part in. The event is ideal for all levels of triathlete so find your team of 3 and secure your team entry. This year we have two team options available for you.
Option 1) Enter the full team challenge where each team member completes all 3 disciplines.
Option 2) Enter the split team challenge where each team member just completes one of the 3 chosen disciplines.

The distances are 400m swim/15km bike/5km run.
If taking on the ful team challenge all team members complete all disciplines. The first team member will set off on the swim, come out of the water, tag the next member who then completes the swim and so on. You then move on to the bike and then the run.
If taking on the split team challenge once you decide who is doing what discipline the first team member will swim, then hand over the race chip to the 2nd team member at the handover pen and then the team member biking will do the same thing for the 3rd team member who will finish with the run.
The atmosphere is fantastic, the event is super fun, friendly and a great laugh with a little bit of competition involved as well!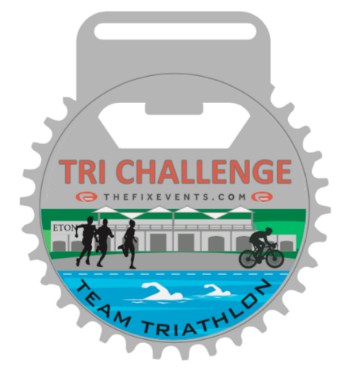 Motivation to inspire you to take part

Super friendly, helpful, supportive and professional team to motivate, support and inspire you
Olympic venue
Clean, calm lake waters
Fast, flat closed road bike and run course
Suitable for all abilities
Early season timing to prepare for longer distance events
Awesome atmosphere
Event benefits
Awesome medal
Free Parking
Electronic chip timing
Instant race results
Results texted to your mobile phone as you cross the line (additional cost which can be added during your registration)
Get your team sorted and secure your entry!
Race Video
Event Information
Event Merchandise - Get the look!
Available to buy during checkout.
Fix Addicted Black Tech T-Shirts£10.00(discounted price)