Through the Seasons February Virtual Run Challenge
Monday at 08:00am1st February, 2021
About this event
Join our February Through the Seasons Run Challenge! This month work towards bringing your chosen run time down! Start your running challenge as soon as you register to this event, go for your run, see what time you acheive and then set yourself a goal of bringing your time down by whatever you think acheivable. If you normally run a 5k for example in 30 minutes, try and bring that time down to say 27 minutes before the end of the month!
Part of the inspiration and motivation is the option to buy each month's medal and these can be connected together like a jigsaw as you can see in the visual.
Through the Seasons Runners Receive
Online profile where you upload your run time along with regular updates
View your challenge stats, view our leaderboard and our overall country running stats
Partner offers and benefits
Motivational training advice, videos and more
Offers and discounts to future Fix Events
You can order the February medal now or why not order our 6 month Through the Seasons Medal offer! See more once you add the event to your shopping basket.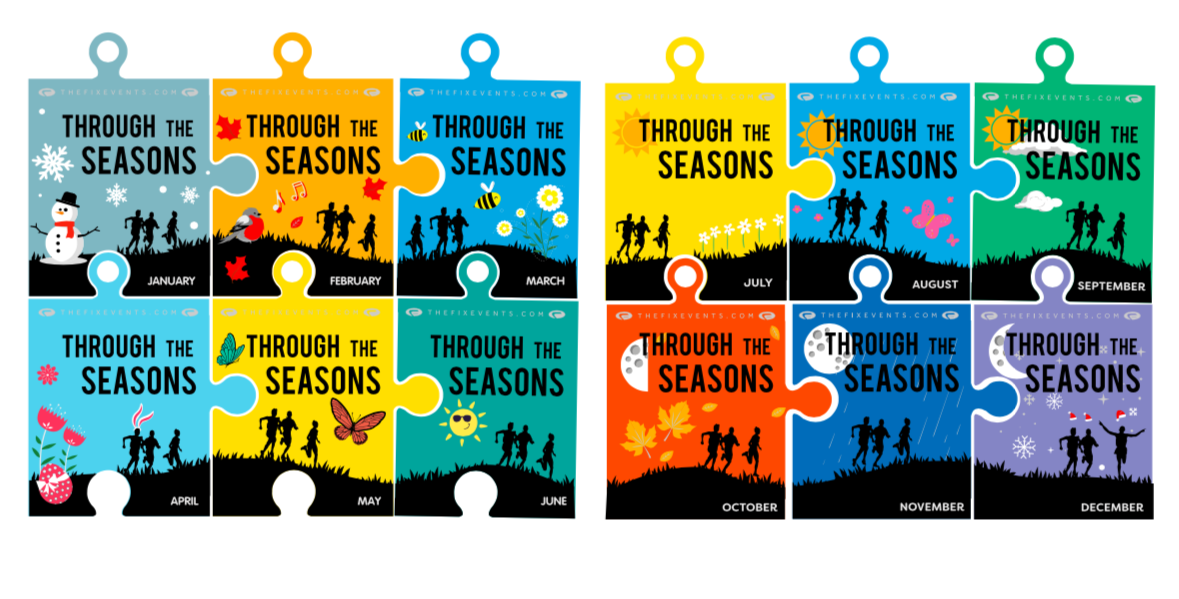 Event Information
Entries close on the 1st March, 2021. Please note a 10% online booking fee is added at checkout.
Event Merchandise - Get the look!
Available to buy during checkout.
Through the Seasons 6 months medals 2021£42.50(discounted price)

Through the Seasons January Virtual Run Challenge Medal£7.00(discounted price)

Through the Seasons February Virtual Run Challenge Medal£7.00(discounted price)