The CityvWharf Team 10k Run Challenge
Thursday at 06:30pm26th April, 2018
Victoria ParkGrove Road,, Bow, London, E3 5TB.
About this event
Run in teams of 2 or 4 - Baton relay race - Fully chip timed - Team prizes - Team and location results
It's time to get running for your company, for your profession, and for your location!! This event is all about bringing the 2 major London business districts head to head in this awesome team run challenge.
When registering you only need to enter one persons name and email per team! If entering multiple teams please just add an individual team captain name and email for each team. (You decide your team members prior to race day and we do not need this information)

You have the option of the team 2 person 10k or the team 4 person 10k. If entering teams of 2 each runner runs 2.5km then hands over the race chip to their team mate before doing a second 2.5km. If entering teams of 4 each runner just runs 2.5km and hands over the race chip and the last runner heads over the finish line.
Results include team placings for male, female and mixed teams. Companies can enter as many teams as they like. Each team has to have a unique team name. i.e Fix Events Team 1, Fix Events Team 2.
Team members can run in any order. This is up to the team to decide before the event day.
If entering as a team of 2, each team member must do a 2.5k loop then hand over the race chip, then move back in to the pen to wait to complete their second lap.
So now is the time to secure your team entry or entries and send out the challenge to your rivals in the City or Wharf and get ready for this fantastic event! If you need more info about team entries please email us at info@cityvwharf.com
Every entrant receives full race chip timing, an awesome CityvWharf Medal, snacks and drinks on the day and free photos to download!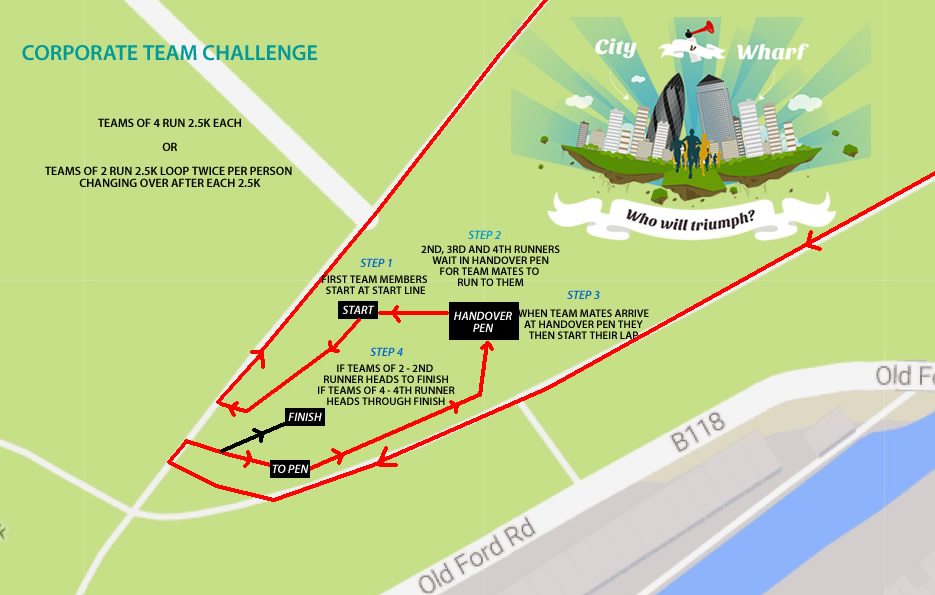 View a larger visual of the team relay setup

Thinking of Fundraising?
This event will be supporting a number of charities (To be confirmed) however please note fundraising is optional and you can also support and raise funds for any charity of your choice.
Race Video
Event Information
Event Merchandise - Get the look!
Available to buy during checkout.
CityvWharf Blue Technical TShirts£4.00(discounted price)

CityvWharf Yellow Technical TShirts£4.00(discounted price)