The All Nations 5k and 10k Run
Saturday at 09:30am9th May, 2020
Dorney LakeOff Court Lane, Dorney, Windsor, SL4 6QP.
About this event
The All Nations 5k and 10k run is a chance to don your country colours and feel like you are running for your country!
If you love running, want to get together with family, friends or work colleagues then definitely take part in this event! Set at the stunning Olympic venue Dorney Lake, the atmosphere is superb and the event is great fun and super friendly. Whatever your level of running this event is open to all and a great one to be part of. Fast, flat course, you will enjoy this event!
Motivation to inspire you to take part

Super friendly, helpful, supportive and professional team to motivate, support and inspire you
Olympic venue
Fast, flat closed road run course
Suitable for all abilities
Awesome atmosphere
Event benefits
Awesome spinning medal to add to your collection
Free Parking
Electronic chip timing
Results include showing your country flag (ensure you add your country during the registration process)
Results texted to your mobile phone as you cross the line (additional cost which can be added during your registration)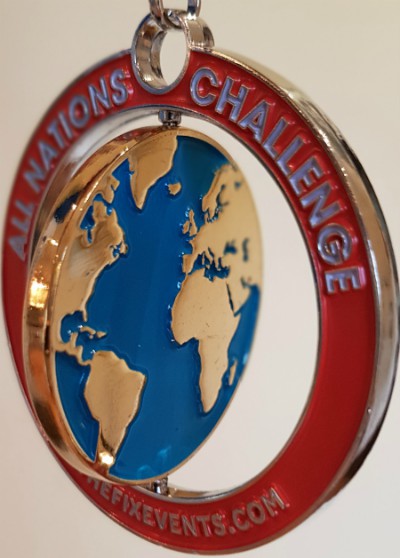 THE EVENT
The 10k starts at 9.20am and the 5k will start at 9.30am.
Have fun! Whatever your level of running this event is suitable for all. It's going to be a great day!
Snacks will also be provided at the finish line.
Race Video
Event Information
GENERAL DETAILS
Registration will be open from 8am (located at the front of Dorney Lake Boathouse) and will close at 9.10am.
You will be using our Chip on Bib race numbers and it is important these are displayed on your outer garment to ensure 1) We can see your race number when running and 2) To help with the timing system to read your time.
The 10k will start at 9.20am and the 5k will start at 9.30am.
Have fun! Whatever your level of running this event is suitable for all. It's going to be a great day!
There will be marshals around the course to support and encourage you.
Please take care when running around the course as this is public land and local residents will be at the venue. Please always stay on the left unless otherwise guided.
A dedicated bag storage area will be available next to the registration tent.
Toilets and showers are available in the club house.
Parking is located for all run entrants about half way down the lake towards the clubhouse and it's about a 10-15 minute walk to the event hub from there.
If you have friends or family who are coming to spectate they will have to park in the parking further up the lake and walk down as the road will be closed from 9.15am
The Clubhouse has changing rooms, toilets and shower facilities.
We have a dedicated storage for your belongings located next to the registration tent.
There is a cafe in the Clubhouse where you can get drinks and snacks.
AFTER THE EVENT
Everyone will receive a medal and there will also be a number of prizes up for grabs.
Drinks and refreshments will be available from the Clubhouse.
Relax! Check out your results at our race timing van once you cross the finish line.
Results go live to our website as the event is taking place.
By Car
The full address for the event is Dorney Rowing Lake, Dorney, Windsor, Berkshire, SL4 6QP. A link to the venue can be found at the top of this event page.
By Train
If travelling by train the main stations for Dorney Lake are Slough (Paddington line) and Windsor & Eton Riverside (from Waterloo) but is also near Burnham, Taplow, Maidenhead and Windsor & Eton Central (branch of Paddington line). From these stations you can get a taxi or if with a bike you can ride to the venue. We recommend researching the best option before travelling to ensure you arrive on time.
Can I register on the day of the event?
This is possible only if the event isn't sold out. This will be stated on the website prior to the event.
When do I receive my race pack?
We email you your race number and details and this also goes on the website prior to the event so you can search if you haven't received your email for any reason. You then collect your race packs at registration on the morning of the event.
How do I know I am registered?
You will receive an email confirming your entry. If a friend or colleague has entered as long as they have used your email address in the entry you will receive confirmation.
Will I receive race information in the lead up to my event?
Yes we send out email updates prior to your event and you can view all event details, news and offers by logging in to your user profile.
Will I be chipped timed?
Yes all our events (unless otherwise stated) are chip timed! In most cases you will use our disposable race chips. You need to ensure you put these on correctly on your shoe (race instructions will be given via email and this info is on your event information page on your event page).
Can I find the race number list prior to the event?
Yes, your event race list will be online approximately a week prior to your event. Please make a note of your race number and that of friends as you will collect your race pack on the morning of the run.
What happens if I don't receive my race email?
If you don't receive your race email it may be because the wrong email address was inputted or the race email went in to your junk mail so please check carefully. All information will can be found by logging in to your user profile and your race number will show within this account area.
Can I Enter a team?
Absolutely! Get as many friends, family or colleagues together and run as a team. You are not required to run together and each person will receive their own time however it's just fun to run under a team name.
Can I run with a buggy?
Yes this is typically ok for most locations however please check the run route course as some locations can be a mix of path, trail, grass so not always suitable for running with a buggy. Also please try and stay to the left as much as possible to give room for other runners.
Can I volunteer to marshal at the event?
Absolutely! If you miss out on a place or just want to help out on the day and marshal that would be great. You would be there to support and encourage all entrants. Contact us by filling the form to express your interest. We would welcome you to join our team.
Refunds
The Fix Events refund policy is: Up to 14 days before the event you can either (i) cancel and receive a 60% refund or (ii) transfer your registration to another Fix Event (£5 transfer fee applies). Alternatively, you can transfer your place to someone else you know who may wish to take part. To do so you must email info@thefixevents.com. Unfortunately, after that, we cannot give refunds or transfer your entry to another event.
Event Merchandise - Get the look!
Available to buy during checkout.
Fix Addicted Black Tech T-Shirts£10.00(discounted price)

All Nations Photo Bundle 2019£7.50(discounted price)