The City v Wharf Individual and Team Run Challenge 2020
Thursday at 06:30pm29th April, 2021
Victoria ParkGrove Road,, Bow, London, E3 5TB.
It is with great sadness that we have to postpone all our upcoming events taking place in March and April in light of the current situation with Covid-19 and the developments of this virus as outlined by the government.
For all those registered to any of our March or April events please stay posted for more from us outlining the options to you. You will receive an email outlining your options later today. For all those entered in to our events in May and beyond these are currently going ahead as planned. If this changes we will of course notify you via email, our website, online profile and social media.
Thanks for your patience and understanding whilst we work through these tough times.
From all of us at the Fix Events thanks and take care.
About this event
Our new City v Wharf Corporate Run Challenge is now set!

Come and run individually or companies can register as many people as they like. The run course is set as a 2.5k loop and from the start time of 6.30pm you can choose to run as many laps as you can within the 1 hour timeframe. This is completely up to every individual, some may want to run 2.5k, 5k, 7.5k, 10k or more depending on how each person feels on the day and what they think they can acheive!
Results will be sorted for everyone based on distance so there will be top male and female placings for each distance.
There will also be results based on most km's run by a company, top companies based on a number of finishers and more.
So get yourself registered, start promoting within your company and join us for this superb event. Need more info on how this works? Feel free to email us at info@thefixevents.com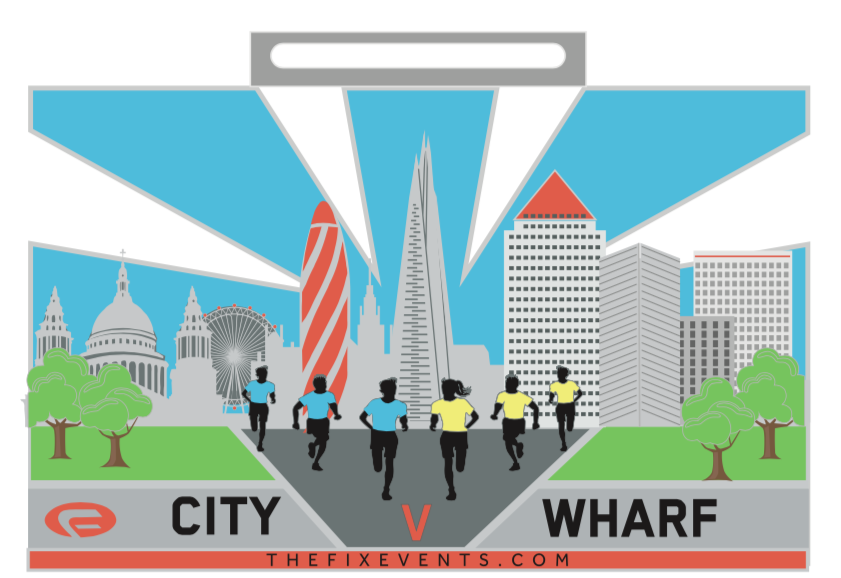 Entering a group of 4 -10 people? Use this voucher code - CvWTeam4Plus - to get 10% off your booking!
Entering a group of 11+ people? Use the voucher code - CVWTeam11Plus - to get an amazing 15% off your booking!
If you need more info about team entries please email us at info@cityvwharf.com
Every entrant receives full race chip timing, an awesome CityvWharf Medal, snacks and drinks on the day.
Race Video
Course Details
Please note the course is path and we recommend road running shoes for this event - The course is flat - 2.5k loops - buggies are ok - wheelchair friendly - note the course may be altered at any point up to event day if necessary
View Race Map
Download Race Map
Event Information
RACE PACKS
Your race packs can be collected at the event or if a group booking was made you can request to have these sent to you (postage costs apply)
ARRIVAL & START TIME
The City v Wharf Run Challenge will start at 6.30pm so please arrive at least 30/40 minutes prior to the event start. Please make sure you pin your race number to the front of your t-shirt.
LOCATION & PARKING
The event hub is based on the grass section to the right after entering Crown Gate. A marshal will be at this gate to guide you to the event hub. From Mile End Station its about a 15 minute walk to the park. Please be sure to plan your journey to arrive on time.
TOILETS
Situated at our event hub.
BAG STORAGE
This is located next to the registration tents. Please note space is very limited so travel as lightly as possible. If you require bag storage make sure you arrive with plenty of time to spare.
THE CITY v WHARF RUN CHALLENGE
The run will kick off at 6.30pm. Everyone taking part is running their own race but at the same time if part of a group your results are calculated by our race timers to group you in to top teams based on when you individually cross the finish line.
There will be marshals around the course to support and encourage you. Please note placings for this race will be based on chip time.
Please take care when running around the course as this is public land and local residents will be out and about. Please always stay on the left unless otherwise guided. Enjoy this great run around Victoria Park.
Results will be displayed on our race timing screen so after crossing the finish line you can check out your time. Results include team placings for male, female and mixed teams. Companies can enter as many people as they like.
Drinks and snacks will be available at the finish line.
AFTER THE EVENT
Everyone will receive a very cool medal and some great goodies! Results include team placings for male, female and mixed teams.
You will be able to check out your instant race results on our race timing screen.
Start spreading the word across the City and Wharf now and let the battle commence!
By Car
There is no carparking in Victoria Park so if driving please plan ahead where you will park.
By Train
Nearest underground station: Mile End. Plan your journey to Mile End Station
Nearest rail stations: Cambridge Heath/Hackney Wick Station
From Mile End Station, turn left and cross over Mile End Road. Turn right onto Grove Road – it's about 10-15 minutes walk straight down. Alternatively, you can also walk most of the way through Mile End Park, which runs parallel to Grove Road. You will first arrive at the Crown Gates.
When do I receive my race pack?
Your race number will be listed on your profile the week of the event. You will receive an email notification when your race number is live in your profile. At this point all race numbers can be found on the event page of the website (half way down the page under Race Information). You will need your race number to register with and to collect your race pack with on event day.
How do I know I am registered?
As soon as you register you will receive an email confirming your entry. You need a unique email address for everyone you register, so that each entrant receives confirmation and details on how to login to their profile. On the confirmation email there will be a link to create your online profile. Please keep an eye on your inbox and in your profile in the lead up to your event as we will send regular newsletters with race day info, race number details and everything you need to know for race day. Your race number will be listed on your profile the week of the event. If you entered via Find a Race or Lets Do This you will receive a confirmation email from them and then another one from us when your entry has been transferred over to our system.
Will I receive race information in the lead up to my event?
Yes we send out email updates prior to your event and you can view all event details, news and offers by logging in to your user profile.
Will I be chipped timed?
Yes all our events (unless otherwise stated) are chip timed!! Your race chip will be on your race number bib which you receive on race day and which must be secured to your outer garment to ensure the chip works correctly.
Can I find the race number list prior to the event?
Yes, your event race list will be online approximately a week prior to your event. Please make a note of your race number and that of friends as you will collect your race pack on the morning of the run.
What happens if I don't receive my race email?
If you don't receive your race emails it may be because the wrong email address was inputted or the race email went in to your junk mail so please do check your junk mail carefully! All your race information is stored in your online profile and your race number will also be listed here the week of the event. Please login to check all your information. If you have forgotten your password, login with the email you used to sign up with and then request a new password. All race day information will also be on the event page of the website and a race listing with your race number will be online the week of the event.
Can I cancel/transfer/get a refund if I can't take part?
You can cancel up to 14 days before the event and receive a 60% refund. Unfortunately after 14 days we cannot refund. You can transfer to another Fix Event (£5 transfer fee applies) if giving at least 7 days notice ahead of event day. After this point we can not make any changes to the race data and transferring to another event is not possible. Please email info@thefixevents.com to action a refund or transfer. You also have the option to transfer your place to someone else right up to event day itself. The new runner will simply need to register on your race number and then see our race timing crew, Results Base and they will make the change in entry detail then.
Do you have any age restrictions / can children take part?
Absolutely! We typically allow children of all ages to take part in all our events (unless specific information is given for a set event). Please note that children remain the responsibility of their parents/guardian throughout our events. If the parent/guardian is satisfied the child/children can confidently run 5k or 10k unaccompanied they may do so, with a parent/guardian remaining onsite at all times.
What do I get for taking part?
Full race chip timing with instant results at the event, a cool medal, drinks, snacks, trophies for winners and an all round highly professional and fun event to be part of.
Can I Enter a team?
Absolutely! Get as many friends, family or colleagues together and run as a team. You are not required to run together and each person will receive their own time however it's just fun to run under a team name.
Can I run with a buggy?
Yes this is typically ok for most locations however please check the run route course as some locations can be a mix of path, trail, grass so not always suitable for running with a buggy. Also please try and stay to the left as much as possible to give room for other runners. (this is allowed at running events but not triathlon, please see last faq for more info)
Can I volunteer to marshal at the event?
Absolutely! If you miss out on a place or just want to help out on the day and marshal that would be great. We need as much help as possible to ensure we can give runners the best experience possible and that includes plenty of marshals on the course, helping with registration, bag storage, water stations, handing out medals and general event support. Typical volunteer hours are from 8am until around 12pm and all volunteers will get drinks, snacks and a free entry to any Fix Event!! Please get in touch by sending an email to info@thefixevents.com. We would welcome you to join our team.
Can I walk / do you have a cut off time to complete the event in?
We typically have a cut off time of 1.5 hours to complete the race from when the event starts. Walking part of a 5k event is typically fine but the 10k races are mostly for running (with a bit of walking/jogging if necessary!). If doing a virtual run you have the luxury of completing your event anytime, anywhere and for however long throughout the given event period!
Can I run with my dog/are you canicross friendly
Yes, we love too see dogs running with their owners! Please ensure your dog is on a short lead/harness and that you are careful on the course and respect other runners and park users.
Can I wear headphones?
Yes we do allow this but please note it is your responsibility to make sure you can hear what's going on around you when running, including marshals and general public. Please keep the volume at a level whereby you can hear any important announcements that may be made. (this is allowed at running events but not triathlon, please see last faq for more info)
Do I have to fundraise for the charity you are supporting?
You are not required to fundraise but if you choose to that would make a huge difference to the charity, whatever amount you raise. You can fundraise for any charity of your choice.
How do I view my race day photos?
A few teaser photos will be posted on our Facebook page the day or the day after the event: https://www.facebook.com/thefixevents Approx 1 or 2 days post event all photographs will be available to purchase here: www.wildman-media.com You can search by name or race number and purchase individual photos or as a photo bundle containing all of your race images. You can also save even more money by pre-ordering a bundle of all your race photographs prior to the event. For full details visit: https://www.wildman-media.com and / or contact paul@wildman-media.com.
When do online entries close/can I register on the day?
Unless the event sells out, we typically close online entries 5 days ahead of event day. We generally have on the day entries available. These are allocated on a first come, first served basis. To secure a place aim to be with us at least 45-60 minutes ahead of the first race starting. Please come to the On The Day Registration gazebo and we will get you signed up there. It is typically £20 for the 5k and £25 for the 10k in cash on the day.
What are the rules for triathlon running
When taking part in any of our triathlons running with buggies, running with dogs and running with headphones are not allowed as sanctioned under British Triathlon ruling.