Le Col SpeedFesTT Speed Experience
Saturday at 03:00pm20th May, 2023
Thruxton Race Track, Andover, SP11 8PN.
The inaugural Le Col SpeedFesTT is the ultimate stage for speed, performance and competitive racing. Choose from four track events, catering for elite to novice riders and one of the biggest prizes pots in amateur racing. Bring your family to our festival of speed and enjoy off-track activities including kid's fun area, music, food and drink, as well as interviews, power challenges, and much more.
Ride Faster. Ride Further.
About this event
Additional Le Col SpeedFesTT events to enter -
Team TT - Individual TT - Mixed TTT - Kids Fun Lap
Hang on for as long as you can with the Le Col Speed Experience. Riders stay behind the derney bike whilst the speed increases each lap until we reach hit 50kmh. There's no prize this event, enjoyment and safety is the main objective. Spaces are limited!
Lap 1: 30 kmh
Lap 2: 33 kmh
Lap 3: 36 kmh
Lap 4: 39 kmh
Lap 5: 42 kmh
Lap 6: 45 kmh
Lap 7: 48 kmh
Lap 8: 51 kmh
Lap 9: 54 kmh
Finale (no sprint just roll across the line as a group)
Riders peel off to the left and roll to the pit lane if they get dropped or opt out.
Pricing and entry:
Super earlybird price £15 per person available until 1st March
Earlybird price £20 per person 2nd March until 1st May
Late Entry price £25 per person 2nd May until event day
Timings:
3pm: Female Speed experience
4pm: Male Speed experience
This event supports -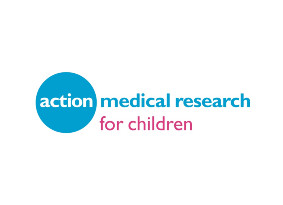 Action Medical Research are the leading UK-wide charity dedicated to funding vital research to help sick babies and children. We're on a mission to save and change children's lives through medical research, developing treatments, vaccinations and cures. For 70 years we've been saving and changing lives through medical research and have spent over £128m (over £353m in today's terms), funding some amazing breakthroughs. We are now driving forward children's research, including in the fight against COVID-19 and rare diseases.
Today in the UK, there are hundreds of thousands of sick and disabled babies, children and young people who need your help. At Action we fund desperately needed research to tackle the diseases that devastate the lives of so many of our children.
With your help we're determined to make a real change to children's lives.
Event Information
THE VENUE AND GENERAL DETAILS
Race packs will be collected on the day unless otherwise specified.
Parking is available onsite.
Bag storage will be available.
Recommended arrival times will be sent to you pre-event and we will ask you to enter the site and transition in phases to help with spacing.
RULES AND REGULATIONS

1. Competitor's Machine
Every competitor must ensure that their machine is so constructed, equipped and maintained as to be capable of being ridden on the road safely at all times and in all conditions. The riding position shall be set so that the competitor has good forward vision when in a competitive position. In particular but without prejudice to the general principles of this regulation:
(a) Brake levers must be secured to the handlebars in such a position as to enable the competitor to readily apply both brakes whilst holding the handlebars at their widest point. The width of handlebars shall be no less than 35 cms.
(b) Tyres shall be in good condition and tubular tyres shall be securely attached to the rims.
(c) Disc wheels or spoked wheels fitted with covers may not be used.
(g) Deep section rims may be used with a maximum rim depth of 90mm and a minimum of 14 spokes.
(h) The use of recumbent machines, protective shields or windbreaks is prohibited.
(i) No competitor shall be permitted to start either a Type A or Type B event unless such competitor has affixed to the rear of their machine a working rear red light, either flashing or constant, that is illuminated and in a position that is clearly visible to other road users.
(j) Tri-bars, clip-on bars, spinacci bars or anything similar may not be used

N.B. Use of the so called "tuck" and "superman" positions would be a breach of the opening paragraph of this Regulation and that such use is not in the best interests of the safety of riders or the welfare of the sport.
N.B. Para-cyclists who are unable to ride a machine that complies with this regulation shall apply to the organiser for dispensation.
2. Protective Helmets
All competitors must wear a properly affixed helmet which must be of hard/soft shell construction. Time trial and triathlon helmets are not permitted. Aero road helmets are permitted. Helmets should conform to a recognised Standard such as SNELL B95, ANSI Z90.4, AUS/NZS 2063:96, DIN 33-954, CPSC or EN 1078. It is the responsibility of the rider to:
(a) Select a helmet that offers protection against head injury and does not restrict the rider's vision or hearing.
(b) Ensure that the helmet is properly fitted, is undamaged and in good condition.
Footnotes:
(i) Any helmet which suffers damage (e.g. in the case of an accident or through mishandling) may no longer afford the same level of protection.
(ii) The organisers make no warranties or representations regarding the adequacy of any standard or the fitness for the purpose of any brand of helmet and will not accept any claims arising from the use of any particular helmet.
(iii) The current British Standard BS 6863 is primarily intended for use by young riders and is not intended to provide a complete specification for helmets for high speed or long distance riding.
3. Competitor's Clothing
Competitors must be clothed from the neck to at least mid-thigh. Sleeves shall be at least mid upper arm length. Swimming type suits and running vests are not allowed.
To be allowed to start all clothing shall be clean and tidy.
Where reasonably possible, teams should aim to ride in matching or similar kit (we appreciate this may not always be feasible)
Numbers and chips to be used in accordance with the organiser's instructions provided at sign-on.
4. Signing-on Sheet/Signing-out Sheet/ Logistics
(a) Competitors must make themselves aware of any special safety instructions for the event when collecting their number and chip and must comply with any such instructions.
(b) No access to the track after 8:30am is permitted for warming up. Please take extreme care if warming up in or near the car parks given the number of spectators and participants. The large tarmac area behind the paddock is expected to be available on the day for warming up.
(c) Please keep dogs supervised and on leads at all times.
5. Covering the Course

(a) The onus of keeping to the course rests with each rider.
(b) A competitor who fails to complete the entire published course (or such course as directed by the chief marshal) before the finishing circuit is reached shall be recorded as DNF.
(c) When dismounted a competitor must wheel or carry their machine without assistance whilst covering any portion of the course.
(d) Competitors will complete 5 laps of the race circuit, a distance of approx. 11.7 miles
(e) Must count your own laps and failure to complete the course will mean a DQ.
(f) If you have mechanical problems do not take a short cut across the track. It is a live airport and very dangerous. You MUST NOT walk through the middle of the field (this will result in a £5000 fine from the track owner which the individual is wholly liable for). Walk the motor racing track back to the pit lane.
(g) In no circumstances ride or walk anti-clockwise (ie against the flow of racers).
(h) Start: Start times will be announced the week leading up to the event. Start times from 9am. Riders then set off 1-2 minute intervals to be confirmed the week leading up to the event. Make sure you are in the pit lane under race control area 5 mins before you are due to start. As you starting time approaches, the assistant time keeper will call your number. At this point, make your way to the starting line. This will be located near to where the pit lane meets the track. Starts are from standing only, no holding of bicycles.
(i) Finish: Enter the pit lane after the chicane to finish at the checker board and flags at the end of your fifth lap. Slow down as directed by marshalls. Remember you must count your own lap and enter the pit lane at the correct point. You must exit the course at the end of your fifth lap.
(j) No spitting or clearing of nose whilst racing, please have respect for other riders.
6. Awareness of Surroundings
(a) Competitors must not use ANY audio equipment except prescribed hearing aids.
(b) Where head and/or eye protection is used, competitors must ensure that this does not impair their vision or hearing.
N.B. A competitor in breach of this regulation shall be disqualified.
N.B. Competitors must not use a mobile phone while mounted on their machine.
7. Observance of the Law
All competitors in, or in the vicinity of the event, must observe the law of the land and of the track relating to road use. In particular, but without prejudice to the general principles of this Regulation, competitors must:
(a) not ride in a manner that is unsafe either to themselves or to other road users;
(b) practice safe overtaking and take extreme care when riding near other teams/ riders;
(c) conform to all traffic signs, signals and direction indicators;
(d) in making any turn before, during or after the event, ensure that it is safe to do so.
8. Paced & Company Riding
Competitors must ride entirely alone (ie in your team only) and unassisted and not ride in company or take shelter (commonly known as drafting) from other riders, teams or vehicles. A competitor overtaking another must pass without receiving or giving shelter. The onus of avoiding company riding shall be upon the rider(s) overtaken.
N.B. If you should catch up another rider/ team you should try to pass as quickly as possible and must not in any other circumstances ride close behind so that you take shelter from the wind.
You must set your own pace and not use another rider as a pace maker. The onus on avoiding company riding shall be on the rider(s) overtaken.
Nor is it in order to ride alongside and even to ride a few metres behind for any appreciable distance. In the spirit of the sport, caught riders should not disturb the performance of the rider catching them by repassing and/or riding closely behind them, except when they can sustain that move. This is generally considered to mean that the caught rider should allow a reasonable gap to develop of some 30 to 50 yards/metres.
9. Use of Motor Vehicles
A competitor shall not be preceded, accompanied, followed by or in anyway receive assistance from a motorised vehicle or its occupants.
10. Feeding
Feeding assistance is prohibited. Breakable containers must not be used.
11. Disease, Disability and Medical Treatment
No person may compete whilst knowingly suffering from any disease, mental or physical disorder or is undergoing medical treatment which makes it unsafe or undesirable to do so.
12. Use of Proscribed Substances
The anti-doping rules are the UK Anti-Doping Rules published by UK Anti-Doping (or its successor), as amended from time to time which shall apply with the necessary changes.
Note: You can find the UK Anti-Doping Rules at www.ukad.org.uk/resources/document/uk-anti-doping-rules
IF IN DOUBT, CHECK IT OUT WITH UKAD
13. Risk and Liability
All participants are reminded that they are responsible for their own safety; participants take part at their own risk. To the fullest extent permitted under English law, no liability is accepted by or shall be attached to the event organiser, Onyx RT or any of the planning committee members for this event or any other member of Onyx RT for any injury, loss or damage suffered by any participant or any third party.
14. Teams
(a) Teams shall be of four riders.
(b) Incomplete teams may start but (except teams of three starting in an event for teams of four) shall not qualify for an award. At least 3 members of the team must finish (including one female and one male rider in the mixed events)
(c) Every rider in each team shall be responsible for their own safety and compliance with the rules of the road.
(d) No teams or members of teams shall take shelter from other vehicles or members of other teams.
(e) The normal formation of a team shall be single file with the minimum amount of echelon to allow a view ahead for each rider. In passing other teams or vehicles teams shall always be in single file.
(f) No racing shall take place between teams and/or individual riders. If one team overtakes another team the onus shall be upon the overtaken team to avoid such racing by dropping back if necessary.
(g) The finishing time for a team shall be that of the third rider save that for mixed teams at least one female and one male rider must finish for a finishing time to be given (it follows that the finishing time will be the fourth rider in the event that the first three riders finishing in any team are all female or all male).
(h) Only team members who start shall be eligible for awards.
(i) During an event a member of a team may not join or rejoin the team unless such member has ridden all the preceding part of the course.
(j) Extreme care to be taken when overtaking or riding near other teams or riders
N.B. All riders in a team are encouraged to wear clothing of a similar colour and design.
By Car
SAT NAV
Use postcode SP11 8PN
What3Words Locations
Driving Experiences: applied.punctual.play
Skid Pan: originate.flotation.flash
Karting and 4x4 Centre: carting.duke.speed
Thruxton is readily accessible from both the M3 and M4
1.5 hours from London
2.5 hours from Birmingham
Once on the A303 follow the signs for Thruxton Circuit ONLY; ignore signs for Thruxton village. Upon leaving the A303 follow signs for Thruxton Circuit.
The karting and 4x4 centre have their own entrance signposted 100 meters before the main circuit entrance.
If you are participating in a driving experience proceed through the main entrance and the tunnel. On exiting the tunnel turn immediately left and follow the signs towards the car park and the Thruxton Centre building.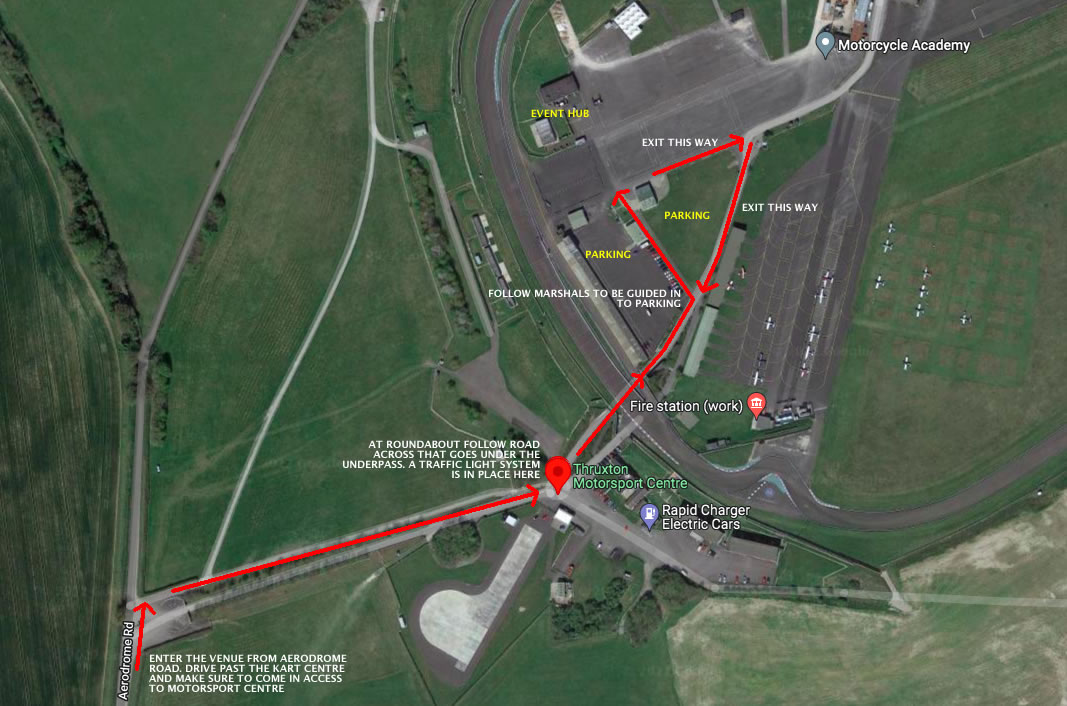 Event Hub Location
The event hub is located next to the main building
Below are our general FAQ's. Please note these apply to most events but not all. Certain questions may only relate to either running, triathlon or cycling events.
How do I know I am registered?
As soon as you register you will receive an email confirming your entry. You need a unique email address for everyone you register, so that each entrant receives confirmation and details on how to login to their profile. On the confirmation email there will be a link to create your online profile. Please keep an eye on your inbox and in your profile in the lead up to your event as we will send regular newsletters with race day info, race number details and everything you need to know for race day. Your race number will be listed on your profile the week of the event. If you entered via Find a Race or Lets Do This you will receive a confirmation email from them and then another one from us when your entry has been transferred over to our system.
Will I receive race information in the lead up to my event?
Yes we send out email updates prior to your event and you can view all event details, news and offers by logging in to your user profile.
Will I be chipped timed?
Yes all our events (unless otherwise stated) are chip timed!! Your race chip will be on your race number bib which you receive on race day and which must be secured to your outer garment to ensure the chip works correctly.
What happens if I don't receive my race email?
If you don't receive your race emails it may be because the wrong email address was inputted or the race email went in to your junk mail so please do check your junk mail carefully! All your race information is stored in your online profile and your race number will also be listed here the week of the event. Please login to check all your information. If you have forgotten your password, login with the email you used to sign up with and then request a new password. All race day information will also be on the event page of the website and a race listing with your race number will be online the week of the event.
Can I cancel/transfer/get a refund if I can't take part?
The Fix Events cancellation/refund policy is: Up to 14 days before the event you can cancel and receive a 60% refund on your entry fees. After this point we can not offer any refunds. Up to 7 days before the event you can (i) transfer to another event or (ii) receive the equivalent amount of voucher points onto your profile for use against a future Fix event. Up to event day you can (i) transfer your place to someone else you may know who wishes to take part or (ii) do the event virtually at any time and receive your medal in the post. To do so you must email info@thefixevents.com ahead of event day. Unfortunately we cannot give refunds within 14 days of the event or transfer your entry to another event within 7 days of the event as costs have been incurred for your registration and your entry fee goes towards covering these fees.
Do you have any age restrictions / can children take part?
Absolutely! We typically allow children of all ages to take part in all our events (unless specific information is given for a set event). Please note that children remain the responsibility of their parents/guardian throughout our events. If the parent/guardian is satisfied the child/children can confidently run 5k or 10k unaccompanied they may do so, with a parent/guardian remaining onsite at all times.
What do I get for taking part?
Full race chip timing with instant results at the event, a cool medal, drinks, snacks, trophies or special medal for winners and an all round highly professional and fun event to be part of.
Can I Enter a team?
Absolutely! Get as many friends, family or colleagues together and run as a team. You are not required to run together and each person will receive their own time however it's just fun to run under a team name.
Can I run with a buggy?
Yes this is typically ok for most locations however please check the run route course as some locations can be a mix of path, trail, grass so not always suitable for running with a buggy. Also please try and stay to the left as much as possible to give room for other runners. (this is allowed at running events but not triathlon, please see last faq for more info)
Can I volunteer to marshal at the event?
Absolutely! If you miss out on a place or just want to help out on the day and marshal that would be great. We need as much help as possible to ensure we can give runners the best experience possible and that includes plenty of marshals on the course, helping with registration, bag storage, water stations, handing out medals and general event support. Typical volunteer hours are from 8am until around 12pm and all volunteers will get drinks, snacks and a free entry to any Fix Event!! Please get in touch by sending an email to info@thefixevents.com. We would welcome you to join our team.
Can I walk / do you have a cut off time to complete the event in?
We typically have a cut off time of 1.5 hours to complete the 5k/10k races from when the event starts. 3 hours for half marathons. Walking part of a 5k event is typically fine but the 10k races are mostly for running (with a bit of walking/jogging if necessary!). If doing a virtual run you have the luxury of completing your event anytime, anywhere and for however long throughout the given event period!
Can I run with my dog/are you canicross friendly
Yes, we love too see dogs running with their owners! Please ensure your dog is on a short lead/harness and that you are careful on the course and respect other runners and park users.
Can I wear headphones?
Yes we do allow this but please note it is your responsibility to make sure you can hear what's going on around you when running, including marshals and general public. Please keep the volume at a level whereby you can hear any important announcements that may be made. (this is allowed at running events but not triathlon, please see last faq for more info)
Do I have to fundraise for the charity you are supporting?
You are not required to fundraise but if you choose to that would make a huge difference to the charity, whatever amount you raise. You can fundraise for any charity of your choice.
How do I view my race day photos?
A few teaser photos will be posted on our Facebook page the day or the day after the event: https://www.facebook.com/thefixevents Approx 1 or 2 days post event all photographs will be available to purchase here: www.wildman-media.com You can search by name or race number and purchase individual photos or as a photo bundle containing all of your race images. You can also save even more money by pre-ordering a bundle of all your race photographs prior to the event. For full details visit: https://www.wildman-media.com and / or contact paul@wildman-media.com.
When do online entries close/can I register on the day?
Unless the event sells out, we typically close online entries 5 days ahead of event day. We generally have on the day entries available. These are allocated on a first come, first served basis. To secure a place aim to be with us at least 45-60 minutes ahead of the first race starting. Please come to the On The Day Registration gazebo and we will get you signed up there. It is typically £20 for the 5k and £25 for the 10k in cash on the day.